Aerial-1-1024x650
THE MALDIVES - PASTA POINT
THE MALDIVES - PASTA POINT
PASTA POINT - THE MALDIVES
Cinnamon Dhonveli Maldives (Pasta Point) Surf Tours
 Surfing at Pasta Point surf break and the surf transfer boats are for Atoll Adventures' clients only.
Surfing packages can only be booked through Atoll Travel or one of its accredited agents.
Os pacotes de surfe só podem ser reservados por meio da Atoll Travel ou de um de nossos agentes credenciados.
Пакеты для серфинга можно забронировать только через Atoll Travel или одного из его аккредитованных агентов.
The Maldives Most Awarded Surf Tour.
SEASON
ALL YEAR
(Peak March to October)
PRICE
From $4,305US
Regular Season Twin Share Surfer Rate per Week
The Resort
Cinnamon Dhonveli Maldives (Pasta Point) is a small and beautiful tropical island resort in the Maldives. Offering exclusive access to the classic Pasta Point surf break.
Cinnamon Dhonveli Maldives is the only holiday resort with a program designed especially for surfers by Atoll Adventures, the most experienced and professional surf operator in the Maldives. With unrivaled local knowledge of Maldives surf and boats available on demand, you'll get on the best waves going.
Maximum 33 surfers!
Surfing at Pasta Point and the surf transfer boats are for Atoll Adventures' clients only.

IMPORTANT: Please note that all surfers and companions booking to Cinnamon Dhonveli must be booked on the Atoll Adventures surfing package which includes airport transfers; accommodation; full board; surf transfers; other activities and Maldives taxes.
Bookings can only be made through Atoll Travel P/L or one of its accredited agents.
(It is not possible to book a surfing package through Bookings.com or any online portal)
Maldives Surfing
In 1991 Atoll Adventures' founder the late Tony Hussein Hinde selected the little resort on Kanuoiy Huraa island in North Male Atoll as the location to establish the Maldives first land based surf tour.
It was chosen for one reason…….it's simply the best location for surfers with the quality and consistency of Pasta Point and the proximity to three other world class waves.
Much has changed; the old Tari Village resort became the luxurious Cinnamon Dhonveli Maldives and Atoll Adventures became the most exclusive and comprehensive surfing operation in the Maldives maintaining the highest standards of service and sustainability.
Pasta Point
Pasta Point, the region's most consistent break, is just a minute's walk from your room.
Other classic breaks – Sultans, Honky's and Jailbreak – are less than ten minutes away by boat. You can see the waves from the resort, so you'll know when they're pumping. Boats are available all day from 5.30am (weather permitting).
See Maldives Surf and Pasta Point Instagram for daily surf updates).
The Adventures Surf Tour 
The features of the Atoll Adventures Surf Tour are:-
Maximum of only 33 surfers on island with exclusive access to Pasta Point.
Pasta Point the most consistent break and best wave if smaller swell.  
Closest resort to the other prime breaks of Sultans (R), Honky's (L) & Jailbreak (R) all within 10 minutes by boat.
Unlimited surf transfers to the regional breaks included.
First boat to Sultans departs at 5.30am to be first in the water. (weather permitting)
All surf transfer boats and guides with walkie-talkie communication for coordinating quick access to breaks.
Perfect for groups of surfing friends or with non-surfing partners & kids.
Perfect for all abilities of surfers.
Flexible arrival/departure days so whatever length of stay to suit.
Fishing, snorkeling & yoga included also for the non-surfers.
Every surf traveler should experience the uncrowded, consistent and perfect waves of the renowned Pasta Point while enjoying the comforts, service and sensational food of the four star Cinnamon Dhonveli Maldives resort.
Rooms
All rooms are air-conditioned and have king-sized beds, a stocked mini-bar, satellite-cable TV, telephone, tea/coffee making, closets, writing table and chairs. Additional beds can be provided for family accommodation. Four types of room are available (click the links for pictures and details)
Cinnamon Dhonveli resort will be a fully branded 4 Star resort for 2020.
There are six room types with the four most popular for Surfers and their families being the Garden, Beach & Water Bungalows and the plush Over Water Suites.  
Garden Bungalows are the most popular choice for surfers. These two-storey units have a king size bed and balcony up on a mezzanine level, and spacious sitting room with an extra bed (or day bed) downstairs, and a stylish, fully tiled bathroom.
Beach Bungalows face the lagoon, and are beautifully finished with tropical timbers and textured walls. They feature a king-size bed and an open-air bathroom with shower and tub in a private tropical garden. There's plenty of space for an extra bed for family holidays.
Water Bungalows are built over the water inside the reef, with views of the waves and the Pasta Point break just a short stroll away – wake up to the sound of the surf! Water Bungalows feature a spa bath and private sun deck.
Junior Beach Suites inspired by the beach front and offering panoramic views of the sea and land, these spacious suites provide optimal comfort the essence of inspired living with a touch of elegance. The ultimate base for a beach-side getaway; a short stroll from Pasta Point, the restaurant, swimming pool, bars and spa.
Over Water Suites, above the lagoon, have a wide outdoor deck with private sun lounges and steps down to the water. The romantic bedroom features king-sized bed, en suite bathroom and personal spa bath. A separate living room features a divan/day bed, TV, and entertainment system.
Beach Suite with Pool is an exclusive beach-stay with ample privacy and stylish comfort awaits you at our modern Beach Suite which has its very own plunge pool. The ultimate base for a family beachside getaway; a short stroll from Pasta Point, the restaurant, swimming pool, bars and spa.
The open-air Makana Restaurant serves an international buffet for breakfast, lunch and dinner. For those who like to try the local foods, and particularly enjoy a curry, the Maldivian dishes are highly recommended. Right at the water's edge, the Raiyvilaa Bar opens daily from 8am till late at night. It's the place to enjoy a fancy cocktail on the open deck as the sun sets on another tropical island day. The Raalhu Bar, overlooking the break at Pasta Point, is the ideal place to watch the action or retreat for a cool beer after a long day in the surf. It's open from 6am till late at night..
Maldives Leading Surf Resort 2023 – South Asian Travel Awards 
Leading Surf Resort in South Asia 2016, 2017, 2018, 2020 & 2023 – South Asian Travel Awards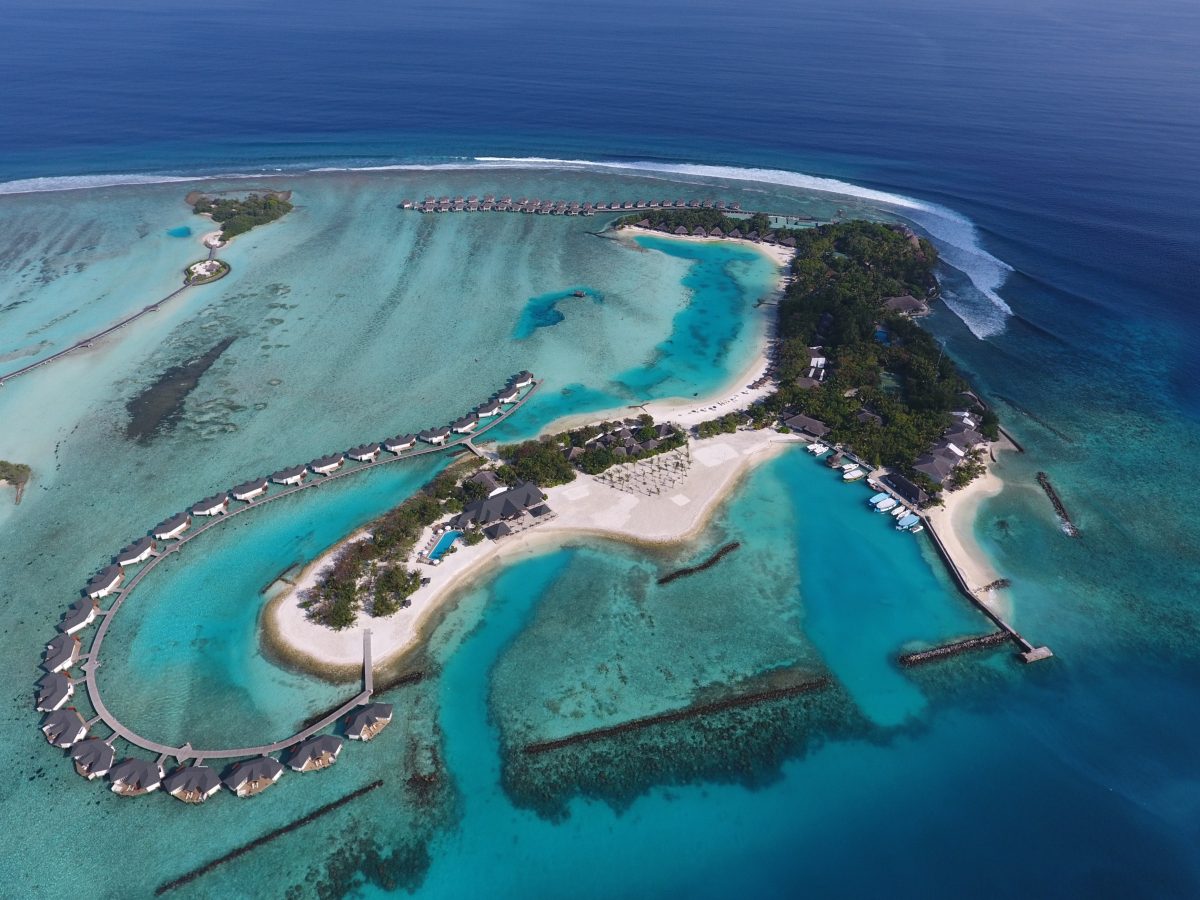 Activities
Discover Maldivian village life on an Island-Hopping Tour, or visit the main island of Male on a Shopping-Sightseeing Trip – just book at the resort (extra charge applies).
The resort's own dive operator conducts Scuba Diving courses and runs daily trips to some of the best dive sites in the Maldives.
The Mandara Spa offers a range of health and beauty treatments – for surfers we especially recommend the Muscle Ease massage.

If you can't bring your own board, or you can't face the hassle, Atoll Adventures Surfboard Hire offers a range of Surftech, Tuflite & NSP surfboards for hire at very reasonable rates.
Tour Packages
Guests are met on arrival at the Maldives international airport, and transferred by speed boat to Cinnamon Dhonveli, 30 minutes away. Staff are on hand to assist with surfboards, luggage and any other equipment. At the end your holiday, the resort's boat will have you back at the airport in plenty of time for your return flight.
Atoll Travel holiday packages to Cinnamon Dhonveli Maldives include airport transfers by speedboat, accommodation, all meals (soft drinks, tea and coffee with meals), unlimited boat trips to the Maldives surf breaks in North Male' Atoll, surf guides and snorkeling trips.
Availability
Surfer Places Remaining
availability subject to change at any time
BOOK THIS TOUR
STARTING PRICE US $3,811